Overview
September 3, 2016
Features
Lesbian Lick Fest
HD Quality
Glamour Style Porn
Thousands of Photos
7 Different Downloadable Sizes
Slayed.com Discount
I'm kind of a lesbian porn aficionado. I really like watching it, so over the years of watching far too much lesbian porn, I can say that I can certifiably identify good lesbian porn vs. bad lesbian porn. If I'm honest, most lesbian porn isn't very good; however, there are some quality sites out there that have made the cut and I'm happy to announce that Slayed.com is one of them. If you agree and want a membership to this quality site, then you'll be able to use our exclusive Slayed.com discount and save up to 45% off your membership.
Listen, I'm a busy guy and I get hit-up all the time from porn companies asking me to review their sites. The truth of the matter is that it actually takes some work. I actually want to offer my readers an informed decision when it comes to buying online pornography. So although the average guy out there jerks-off to porn, when I'm reviewing these sites, I don't have my dick swinging out waiting for a good money shot. Now I'm not complaining – I want you to know that only good quality sites make in to DirtyBros, and when I was asked to review Slayed.com, I was actually looking forward to it.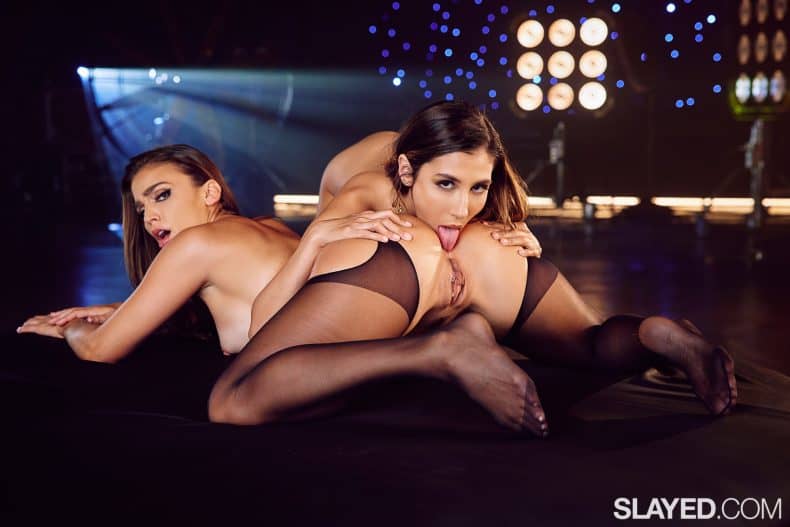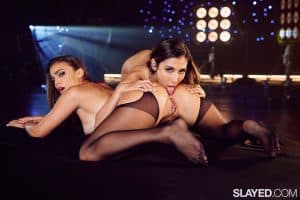 So Slayed is a rather new site from the same studio that brings you Tushy.com, Vixen.com, Blacked.com and BlackedRaw.com. As of this writing they have about 48 scenes of peach licking fun. They started producing in the middle of 2021 and they're currently releasing a new scene every week. If you've read my reviews of those other sites, you'll know that their navigation is splendid and that their production values are of the highest quality. With the average running time of each scene reaching just under an hour and having access to nearly 100 photos for each scene, you'll have plenty of material to enjoy.
So you may be wondering what sets this site above most other lesbian niche sites. Well, the first thing is how beautifully well-done the sets and the presentation of the models are. Yes, you've seen these pornstars throughout the years, but they have done them up to the 9's and these girls flat-out do a great job eating pussy. When I watch a lesbian scene, the thing that turns me on the most is how well the girls eat pussy. If they're lightly licking around as if they're a three year old playing with their dinner food, then I'm not going to get invested in the scene. Although, if the girls are deep diving their tongues and trying to lick-up every last drop of pussy juice – well, I'll be hook, line and sinker.
If you like watching beautiful women stiffen their tongues and giving rim jobs and eating pussy, then you'll love how the camera gets up close and personal. You'll feel like you're right there enjoying the feast of peach cobbler delight. Grab our monthly discount to Slayed.com and save 33%. That way you can get your money's worth and watch great quality lesbian porn for the next month. I'm telling you, you won't regret it.
$19.95/Month – 33% Discount$16.50/Month ($99.95/Annual) – 45% Discount