Overview
August 20, 2020
Features
42 Exclusive Sites
8000+ Scenes
Daily Updates
Amateur Girls
Pornstars
POV
Teen College Girls
HD Quality
BangBros Discount
$9.99/Month – 68% Discount$7.49/Month ($89.99/ 1 Year) – 75% Discount$4.95 1 Week Membership – 84% Discount
Imagine a cute little brunette walking into her first porn gig with all of the naivety in the world. She's nervous and sitting in her robe as the make-up artist applies her face. She makes small talk with a few people in the crew, and when the director shouts, 'And Action!', she's completely shocked to see that her male co-star has a cock the size of her forearm. What is going through her mind when she remembers that she signed-up for an anal scene because she enjoys a little anal with her past boyfriends (all of whom were not hung like a horse)?
As she gets on her knees to suck this guy off, she can't even fit her hand around this guys dick. Getting her mouth around it is like a snake eating a pig. When the moment comes, she bends over to take this guys monster deep into her ass. You can imagine the painful squints this little girl starts to make. Well… this is the type of porn you'll see at BangBros.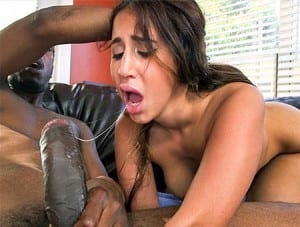 If you like amateur porn scenes without big productions, we think you'll become a fan of BangBros. Many of the scenes are set in the reality niche, so you won't find some corny script that the actors are following.
Some of the actresses are known porn stars – others are up-and-comers – but many are first timers. As of this writing they have over 3,000 girls filmed for one of their more than thirty sites.
They have an archive of sites dating back to 2001. However, over the past five or six years they've been filming exclusively in HD.
Videos are viewed in three formats (Flash, WMV and MP4). Their site is mobile compliant, so you'll be able to download to your tablet/phone and your desktop. The ZIP files are available for downloading image sets.
You can browse their scenes in small increments called, Chapters. Which basically creates a smaller clip for you guys who are short on time.
Each scene has a description of the scene and a small bio of the girl you're going to watch.
There are daily updates to any one of their sites. So there won't be a day that goes by where you won't have access to new porn.
You will usually have to pay $39.95 to get a membership to BangBros for 30 days. Here's a breakdown of the BangBros discount we have:
$14.95 for 30 days. This is an introductory offer that will renew to $14.95 a month. This is good for first time users. It gives you plenty of time to access their content, and to see if you like their site. (You can always sign-up for their annual membership.)
$9.95 a month for 12 months. You do have to pay the annual fee up front – $119.40. It may be a lot to cough-up, but if you want awesome new porn 365 you'll be happy to pay this price.
Click the button above and you'll get these exclusive discounts. If the price point isn't matching, you'll need to clear your internet cookies and re-click the button below.