Overview
Item Reviewed
Girlfriends Films
September 3, 2016
Features
2K Lesbian Scenes
HD Productions
VOD - Over 200K Scenes
Great Storylines
75% Promo Code: EPIC
Girlfriends Films Discount
I must have been hiding under a rock. I apologize for my lack of awareness. My job is supposed to bring you great discounts to great porn sites and I'm just writing-up a review of Girlfriends Films. I preach how much I love lesbian porn – so I'm not proud of the fact that this awesome lesbian porn site is just getting added to Dirty Bros. The good news, though, is that we have an excellent Girlfriends Films promo code.
Girlfriends Films was founded in 2002, but for some reason they have nearly 2,000 scenes dating back to 1999. My guess is that they purchased a bunch of lesbian porn when they launched their site – just to have a back-log of content. They've come a long ways since their first few years on the internet. The quality was grainy and some of the lesbians were more butch than I'd ever want to see naked. (You know what I mean? Heavy, tattooed and crew-cuts.) But I'm happy to announce that their quality has come along way since then. They now have everything they shoot in HD and smoking hot lesbians.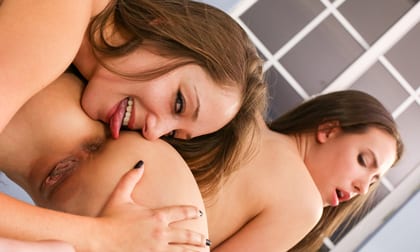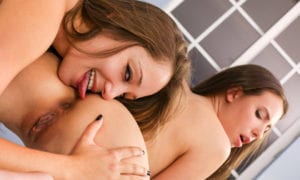 What Girlfriends Films does really well is that they have excellent story lines that really make the scenes play-out in an erotic and believable way. They've really put a lot into these scenes as they continue to roll-out scenes under various award winning series'. They've put so much into their productions, that the Girlfriends Films bought a 37,000 square foot production facility. So you can be rest assured that your membership money is going back into the production, to give you excellent quality porn.
Girlfriends Films is putting out a new scene from any one of their hit series (Women Seeking Women, Backstage Girls and 19th Birthday, to name a few) every three days. In addition to their own productions, they also have video on demand (VOD). Whereas you can buy credits to watch a certain amount of minutes from other production companies. So if you're not wanting to watch lesbian porn on a particular day, you can watch something else from another production company. For example, they have scenes from Kink, Reality Kings and Evil Angel, to name a few. As a new user you'll get to test out their VOD for free with 20 streaming minutes. That pushes your available scenes to watch at well over 200,000.
With our Girlfriends Films promo code, you can purchase an annual membership and save 75% (or $7.45/month). However, if you just want to try them out for a month, you can save 84% off your membership and only pay $7.95. These prices sure beat the usual membership price of $29.95. So give them 'a look-see'…
$7.95/Month – 74% Discount$7.45/Month ($89.45/Annual) – 75% Discount – Use Code: EPIC$5.00/1 Week Membership