Overview
August 27, 2016
Features
Nearly 9K Scenes
Over 300 AVN Awards
Retro Porn
Nearly 1K Adult Stars
Sex Education
Parody Porn
Real Swinger Porn
Vivid Discount
Vivid is one of those companies that has dominated the porn industry for so long that some of you may not have been born when they were pushing out product. To that point, they go so far back that VHS was their primary formatting, and their first AVN award was won in 1987 – now they have over 300. They have since moved on with the times and you can get their DVDs or become a member of their online site.
When I first do a review of a porn site, I look for something that stands out. And the first thing that stood out to me when reviewing Vivid was their sex education. Yep, they not only provide you porn scenes, they also have a whole series on teaching you the best methods to achieve the best experience for a particular sex act. Are you curious about anal sex? Well, they have a three-part series on how to pleasure a women with a little brown-eye stimulation. Does your girl want to penetrate your ass? You may want her to take a few courses on the matter before she starts. How about blowjobs? Ladies, do you want to learn how to give great head? Then this is the site for you. Not only are these lessons hardcore, they have someone walk you through it, step-by-step.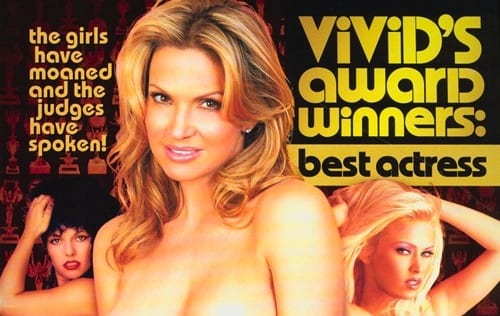 You may have heard of Vivid from their controversial purchases of many high profile sex tapes. Like those of Kim Kardashian and Teen Mom, Farrah Abraham. You won't find these scenes at this site, but if that's what you're looking for you can find that here at a discounted price at VividCeleb.com.
The site is not like most of the other large network sites. The navigation isn't as clean; however, I found that their simple search bar is more than capable to finding something that you want. For example, if you're looking for a particular model, you can do a search for her and all her scenes will populate. If you're looking for a particular niche, you can search for that, too. What I really like about Vivid is the fact that they have scenes going back about 30 years. So if you're into retro porn binge watching, then this site is for you. (Heck, retro is the way to go these days. The NES mini sold out in minutes.)
Vivid has a huge library of scenes (nearly 9,000) since they've been around so long. I couldn't quite tell how often they update their site, though. They do not have dates on all of their released scenes. However, they do have an area dedicated to 'Recently Released Scenes'. I also couldn't find any photo sets for the scenes I watched (but they claim to have nearly 500K stills). Nor could I find a place to download the scene.
Their newer scenes can be streamed up to 1080p (which I suggest). However, their older scenes were not shot in HD. The overall quality of their scenes are on par with the other porn giants in the industry.
Is Vivid the right membership for you? If you think retro porn, parody porn and sex education separates your porn viewing from other specific niche related sites, then the answer is 'yes'. They have a ton of content with varying niches to get you off. Our discount price to Vivid will save you 42%. So I suggest that try it out for a month before you commit to a longer membership.
$19.97/Month – 42% Discount$12.50/Month ($74.97/6 Months) – 65% Discount