Overview
September 3, 2016
Features
All Oral Sex
HD Scenes
Nearly 100K Photos
Gagging Blowjobs
Anal Rimming
Award Winning Director
Swallowed Discount
When watching Mike Adriano film his porn scenes they are noted for two things – Anal gaping porn and sloppy St. Bernard style gagging blow jobs. If you're looking for anal porn, head on over to True Anal. However, if you're looking for gagging, eye-watering blowjobs with a mix of anal tongue-plunging play, then you'll appreciate this Swallowed discount.
At Swallowed you're going to be getting some of the hottest blowjobs to jerk-off to. Each scene is between 30 and 50 minutes of pure HD, unadulterated oral sex. Whether he's getting head from one girl or three girls, it's always fun to watch. If watching a girl suck on his ball-sack and getting drooled on from another girl gagging on his meat pole, then you'll be hitting your climax quickly.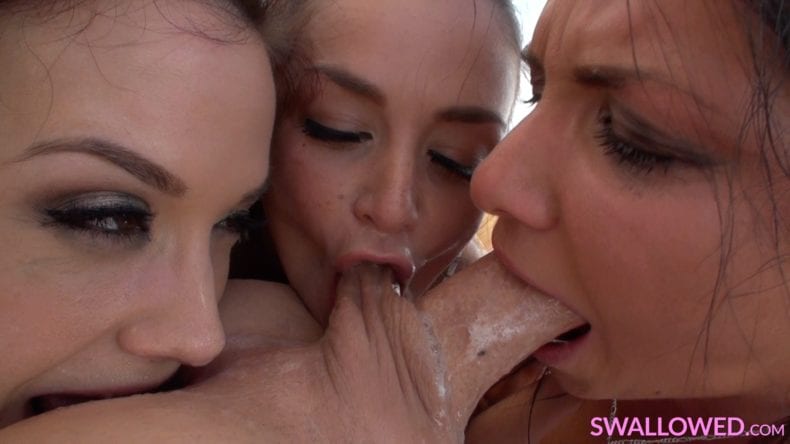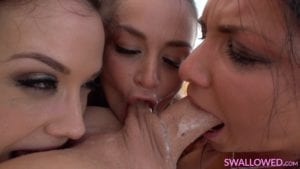 Mike started this site in 2016 and has been putting out a new scene every five days for the past several years. As of this writing, Swallowed has about 150 scenes for you to peruse through. You will also have access to all the photo sets for each scene. In addition, the navigation is pretty simple. You can use the search bar at the top of the page, or search for your favorite actress. When you first hit the Home page, you'll be presented with 12 of the newest scenes available. So finding something fun to watch is a quick search away.
I love this site, but I'm also a huge fan of Mike Adriano's work. If you like watching him give rim jobs and cunnilingus and then watching his actresses' return the favor with a rim job, you'll enjoy this site. My favorite scenes are when he's got three girls going down on him simultaneously. He's got one gagging on his cock, another swallowing his balls and the last one burying her tongue in his ass while they're all covered in their own spit is just so dirty and enjoyable. Again, this site is special in so many ways and we fully recommend it.
Your best deal is to sign-up for the annual price of $9.95 a month. If you're just looking to test-drive the site to see what it's all about, then you'll want to sign-up for the one month membership rate of $9.95. Either way, we think we've got a pretty good offer for a micro-niche site that features the direction of the one and only, Mike Adriano.