Overview
Item Reviewed
Nubile Films
September 3, 2016
Features
HD Porn Since 2012
Sensuality Porn
Unlimited Downloads
New Interface
Multiple Niches
Nubile Films Discount
$14.98/Month – 50% Discount$7.00/Month ($84.00/Annual) – 77% Discount
BUY NOW
Nubile Films won the XBIZ erotic adult site of the year in 2017. Their tagline is, 'capturing the essence of sensuality'. If I had to compare it to other sites that we've reviewed, I suppose I would compare it to Babes. Any time you use the description of 'sensuality', you know you're not going to get scenes in the backseat of a car, or some sloppy blowjob in some producers backyard. If you're looking for gaping asses and really dirty sex, like Evil Angel, Nubile Films is not for you. However, if you're looking for clean sets with caring and passionate sex, then you're going to want to use this Nubile Films discount.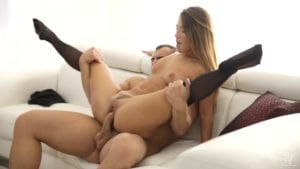 The most intriguing part of this site was the fact that I ran through a bunch of scenes and didn't once come across an actress that I've seen before. That's not to say you can't find your favorite actress here, but what you will be getting are scenes of girls that you probably haven't seen fuck before.
Nubile Films has scenes dating back to 2012 and they are all shot in HD. With that being said, they're releasing a new scene every three days. As of our review they have about 275 scenes. I've watched scenes as long as 30 minutes and some as short as 10 minutes, all with varying niches. All of the scenes download in five different sizes. The larger the MP4 file that you download, the better the quality. In addition, you can download the pictures associated to each scene, too.
They recently updated their members dashboard that allows for simple navigation or advanced navigation. For example, if you want to watch a lesbian scene you can easily type that keyword into the search bar, but if you want a MILF and teen threesome with braces and big tits, you can use their advanced search feature to narrow-down a scene with specific keywords.
Overall, Nubile Films has a lot going for it. I particularly like harder sex that you can get from some of the other larger network sites. But just because my particular taste in porn points one way doesn't mean this site isn't good. The navigation, the quality of the scenes, the frequency of their scene releases certainly gives us reason to write a review and pass on some savings to you.