Overview
Item Reviewed
Look at Her Now
August 31, 2014
Features
Small Library (Spring 2019 Release)
HD Unique Niche
Bonus Content
No Downloadable Content
Look at Her Now Discount
We like to be on the forefront of offering great prices to great sites. Some times we get an opportunity to review news sites, but find ourselves holding back on doing a review because the library is too small. However, when we find a new site that offers something new in the porn industry, we want to offer it to our visitors. In this case, we were excited to do a review of Look at Her Now. As in most cases, this site has a small library and they're only dropping a new scene once a week, but we like the niche they fill.
Look at Her Now released in the Spring of 2019 and they are jumping on a unique niche where the actress is shown in a split-screen. You get to see her dressed innocently and pretty. Yet the other side of the screen shows her fucking with her make-up dripping down her face during a savage romp. It's actually a pretty interesting niche. How often have you seen a hot chick on the street and wonder what she would look like while having hot and dirty sex? Remember the old saying, 'I want a women in the street, but a whore in the bedroom'? You get to see these girls in exactly this manner. You see them interacting in both situations simultaneously.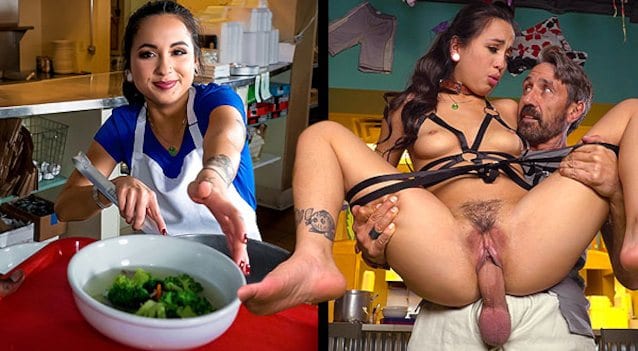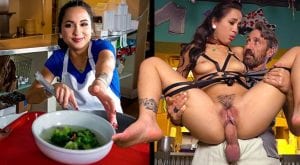 The niche is what I enjoyed most about the site. However, there are some things that I really didn't like about the site. For example, I didn't see anywhere to download photo sets or the ability to download a movie file. Yes, it is shot in HD, but where is the downloadable content? I didn't like how small the library is, but they try to make up for it by giving members bonus content to Don't Break Me. (Don't Break Me is focused on rough sex with petite starlets.) The navigation is common with most other network sites. You'll be able to navigate by actress, categories, top rated and most recent.
As this network grows I suspect the brand will grow. If I had one suggestion to the owners, it would be to offer downloadable content. If you think this niche is hot and creative (I certainly do) I would suggest you tryout a one month membership to see what you think. I personally enjoy this niche and am happy to provide you with a solid membership discount.
$9.99/Month – 68% Discount$7.49/Month ($89.99/Annual) – 75% Discount