Overview
Item Reviewed
Filthy Kings
September 16, 2016
Features
Shot in 4K
Five Porn Channels
30 Minute Scenes
New Starlet Porn
10 New Scenes/Month
75% Promo Code: FILTHY
Filthy Kings Promo Code
$6.66/Month – 67% Discount$7.50/Month ($95.40/Annual) – 61% Discount – Use Code: FILTHY$5.00/1 Week Membership – Use Code: FILTHY
We're always on the lookout for solid porn networks; unfortunately, there's really not that many quality porn networks available. With the majority of online searches pertaining to porn you would think there would be a lot of competition. However, the reality is there are only a certain amount of networks that we believe should be collecting membership revenue. With that being said, here's a network you may not have heard of, Filthy Kings, and if you're so inclined, use our Filthy Kings promo code.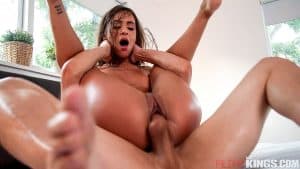 Filthy Kings is an up and coming network that started filming all the way back in 2018. They started dropping scenes about four to five times a month, but as they've added newer sites within their network they have ramped up production and are now dropping between eight to 10 new scenes a month.
On the topic of sites within their network, they currently have Filthy POV, Filthy Massage, Filthy Newbies, Filthy Blowjobs and Filthy Taboo. Yeah, they're pretty self-explanatory. Those are the five kinks that they film and as the network expands, so will their kinks.
Yeah, there are other networks that have POV, Blowjobs, Massage and Taboo, but where we think Filthy Kings shines is with their Filthy Newbies site. When you pay for porn you're most likely going to find the usual porn stars, but the Holy Grail to paid porn is the future stars of the industry. Sure, most of them will flameout, but every now and then you'll find that rare nugget. With Filthy Newbies you'll be watching girls who are fresh to the industry, and that's exciting.
Members will have easy access to the content they provide. You can narrow it down by model, channel (site), or simply a keyword search. All their scenes are shot in 4K HD and you can download scenes in eight different sizes (ranging from Low to 4K). You'll also have access to download all the photo sets of each scene.
If any of this resonates with you, we have an exclusive discount to Filthy Kings. Today you can get access to this network for as little as $6.66 a month. That's a great deal with a savings of 67% off. If you sign-up for their annual priced plan you'll still be getting a savings of 61%.
We hope you enjoy Filthy Kings as much as we do and while you're there, don't forget to checkout their Filthy Newbies channel. You won't regret it.